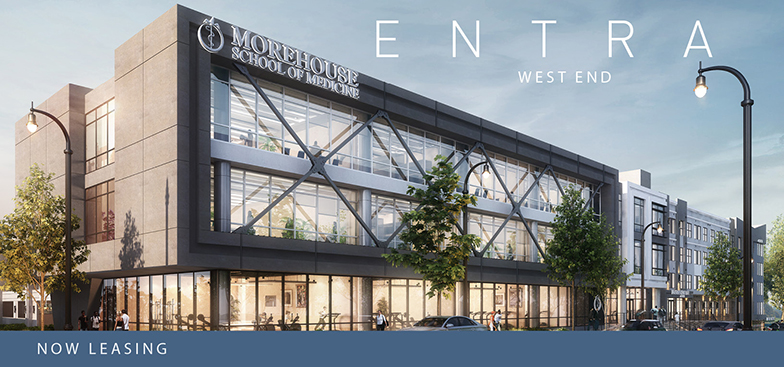 MSM Community
Atlanta's Westside Community
Lee Street Timelapse and Completion of Entra West End
Morehouse School of Medicine (MSM) and Carter broke ground October 26, 2018 on the first phase of a new 7.2-acre mixed-use development. The development will include market-rate apartment units across the street from the MSM campus and just minutes from downtown Atlanta. Entra West End comprises of 187 units through a combination of studio, one- and two-bedroom offerings, located right in the heart of Atlanta University Center.
This mixed-use development will also include a 25,000-square-foot ambulatory health facility, a 9,000-square-foot fitness/wellness center, 2,500 square feet of retail space and a four-level parking deck at the corner of Lee Street and Westview Drive.
We encourage students, faculty, and staff to schedule a hard hat tour and take advantage of early leasing prior to the June 2020 opening.
MSM Chick-fil-A Westside Service Scholarship
MSM is pleased to provide its students the opportunity to live in the Entra West End Apartments offering quality housing with significant amenities. The live-work-play complex includes furnished and unfurnished studios and one-, two-, and three-bedroom units with easy access to the diverse and culturally rich West End community and Atlanta BeltLine.
Current and incoming MSM degree-seeking students interested in living in the Entra West End Apartments can apply for an MSM Chick-fil-A Westside Service Scholarship of up to $2,400 per student. These scholarships are made possible through a generous gift from the Chick-fil-A Foundation in support of MSM students and Atlanta's Westside Community.
Frequently Asked Questions